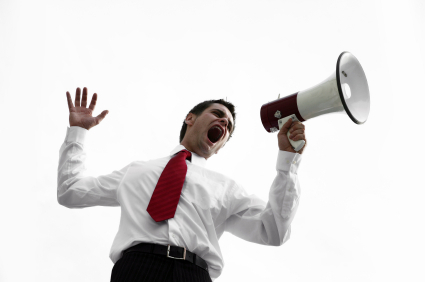 "Our greatest strength lies in the gentleness and tenderness of our heart." – Rumi
You've got a vision for the way you'd like to see something go in your team – and it's really a good idea.
You want your team to get on board with your big ideas.  Not because of ego, but because you have a vision – something creative and innovative you want to try out.  Because it matters. 
But you're frustrated because your team doesn't see the world in the same way you do, or understand the direction you want to go in as clearly as you do.
So far, sitting on your hands, begging, pleading or yelling about it haven't worked out too well.
You don't want to be a huge jerk about putting your ideas into action.  You value relationships with the people on your team, and you don't want to burn any bridges.
If this sounds familiar, try this:
1)  Try a softened start-up:  Look for ways to introduce your idea that build the relationship between you and who you want to engage by looking for common ground, empathizing with the other's position and/or openly expressing why this issue matters to you. 
 Examples:
 "I know you've heard this from me before, so excuse me if I sound like a broken record." 
"I know we're all working so hard these days and I'd love to share an idea that I think could help all of us."
"I'm excited share this idea with you.  It's really important to me because….."
2)  Get specific about results and outcomes:  You have a vision.  You want your team to share it with you.  Great. 
Now give your team a reason to care about it through concrete outcomes and reasons that also matter to them.
Examples:
"I'd really like to see us commit to doing X in 2013 because I think it will really help us reach more people."
"When we focus on improving our quality of service, we really honor our organizational principles."
"This opportunity will help us meet our mission because…."
(Tip: you can also use your feedback and acknowledgment skills here!)
3)  Ask and listen.  Next, ask your team:  what do they think about your idea?  What ideas do they have to meet the results and outcomes you mentioned? 
Really listen to what your team has to say.  Take notes.  If you're making a big request for change, pay attention to what typical styles of change are present.  Look for alignment.  Acknowledge the value you hear in their contributions.
4) Move toward action.  What can you concretely do to move closer to your vision together?   What resources can you offer as team leader?  What requests do you have of your team?  What accountability does there need to be?
I want to hear from you on this topic!  Click on the Comments link below, and tell me:
1) Which of these steps above is easiest for you?  Hardest?
2) What else has worked for you when you've had to get your team on board with a big idea?
If you enjoyed this article, get email updates…. it's free!