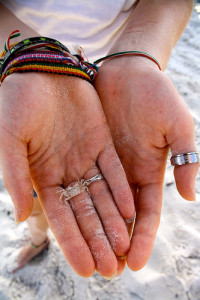 The meaning of life is to find your gift.  The purpose of life is to give it away. – Pablo Picasso

Dear Readers: I'm taking a hiatus from writing new blog posts for a bit, so I'll be sharing some of my most popular past posts over the next few weeks. Hope you enjoy this one – please share your thoughts in the Comments box below!
---
If you're reading this blog, chances are that you're up to something in the world, something big.
The "something big" might be with kids, the environment, health care or nonprofit finance and administration.
You're on a mission (maybe from your understanding of the divine/God, your ethics or values, or your own experience) and you're compelled to fundamentally change the world for good.
You're here on earth for something.  Whether you call it your mission, purpose, your "big why": what are you up to in the world? What matters to you about the work you do?  Why do you do what you do? What needs changing and why?
The answers to these questions is your Manifesto.
Your Manifesto
You might be thinking: Manifesto?  Isn't that a bit overblown?  Arrogant?
I don't think so.
Isn't what you are up to, ultimately, about changing the world for the better?
That's not exactly something for the faint of heart, I'd say.
A manifesto – or statement of purpose, if that's more comfortable for you – allows you to name clearly and concisely what is really important to you.
When you are clear what you are about, for whom, and why, then you are more able to make resonant decisions about your goals and actions: what work to do, what challenges to pursue, and even how you want to work with your colleagues and co-workers.
Knowing what we want helps us filter the overwhelming number of choices we face daily.  A manifesto also helps you utter the all-important words:  No.  Nope.  Not that.
How to find yours
But what if you aren't sure what your mission, purpose, or manifesto is?
The information you need is actually right at your fingertips.  It's right here, right now, and in what you've spent your life doing already.
Here's an example:
When I was a kid, my career aspiration was to drive around the United States in my VW microbus, filled with bunnies, grass seed and deer (my interpretation of "nature"), and reclaim strip mines (I lived in Pennsylvania until I was 8 years old, and we must have seen a flip strip on mining).
From then on, I knew that whatever I did needed to impact the world positively in some way.
Over the course of my career, I've been an outdoor educator, scientist, researcher, health educator, supervisor, parent, and coach.  Everything I've done – professionally and personally – informs the work I do today.  My varied career path isn't a liability; it actually makes me more versatile in what I do and how I do it.
Essentially, at my core, I'm a learner and facilitator.  And my experiences have pointed me to my fundamental belief that the answers to life's biggest questions reside within us.   Not out there, with an expert, but inside us.
My Mission
My own mission/manifesto/purpose statement is always in flux, but for today it's this:
I'm on a mission to help mission-driven leaders and teams claim and live out their world-changing purpose, sanely.
I want to live in a world where smart world changers make bold moves in service of their own purpose.
Not on my watch will people with a purpose and a passion hold themselves back out of fear, circumstances, or limiting beliefs.
What's yours?
Your Mission, if you choose to accept it:
You've got a purpose too.  It's time to name it, so you can live it, and get on with changing the world.  The world is actually depending on you.
Complete these phrases:
I want to live in a world where….
It's not OK with me that….
Write down any relevant themes:  What's really important about what you do?  What matters about it to you? What do you really long for in the world?
Your Turn
In the Comments below, let us know about your mission, purpose, or manifesto. What does naming it do for you, and what you are wanting to accomplish in the world?
Loved this post?
Then use the icons below to tweet it, share it on Facebook and send it to specific friends via email.
And leave your email at the top or bottom of this page to be first to hear about more articles like this.