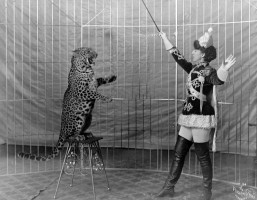 Just trust yourself, then you will know how to live. — Johann Wolfgang von Goethe

Dear Readers: I'm taking a hiatus from writing new blog posts for a bit, so I'll be sharing some of my most popular past posts over the next few weeks. Hope you enjoy this one – please share your thoughts in the Comments box below!
---
Despite your best efforts, you're miserable at work.
People are acting strangely; there's lots of whispering and side bar conversations in the hallways; conversations behind closed doors have become the norm.  You're pretty sure it's not just you who's seeing this and feeling the impact.
You're dedicated to your work and your organization's mission but all that seems less and less important the more unhappy you become.  You're in a crummy spot and not quite sure what your next move should be.
And when this type of anxiety and stress creeps in, it can be hard to even feel good about your own work.
When the circus comes to town
When it gets like this at work, you can feel like the crazy circus has come to town.
Scary clowns, unstable stilt walkers, and enormous elephants crowd the streets, creating chaos and leaving garbage (or worse) all over the place.  You feel like a high-wire trapeze artist or a lion tamer navigating around a dangerous workplace.
Just like at a circus sideshow, you feel like you've stumbled into a hall of mirrors, where reality becomes distorted and warped, and it's hard to tell what's real.
Suddenly, colleagues you used to trust are acting unusually, and you feel like you're walking on eggshells as certain topics and issues at work are taboo or so charged that no one will touch them.
How did this happen? And what can you do about it?
It's often hard to put a finger on what happened to create the circus, but there are ways to manage it (or at least not buy the ticket to the show!)
What to do when your workplace turns into a circus:
Your turn
In the Comments below, tell me: what do you do when your workplace feels a circus? Tell me too: which of my suggestions could help most when your workplace feels crazy?
Loved this post?
Then use the icons below to tweet it, share it on Facebook and send it to specific friends via email.
And leave your email at the top or bottom of this page to be first to hear about more articles like this.
Photo credit: Photo Crafts Shop of Denver / Foter / Public domain