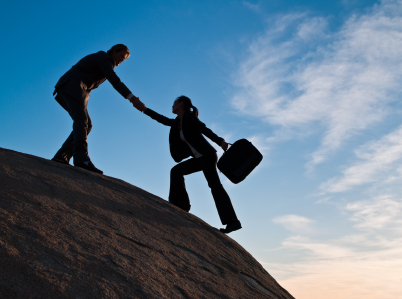 "It's not the load that breaks you down; it's the way you carry it." -Lena Horne
 
It's lonely at the top.   Or so they say. 
Whether in words, actions or beliefs, some of the common misconceptions I hear from leaders revolve around that it's somehow all up to them. 
"I've got to do it all myself." 
"This success of this project is all resting on my shoulders." 
"If I don't do "X", I'll be seen as weak/ineffective/incompetent."
Being successful as a leader (or life or anything else for that matter) can boil down to this often not-so-simple skill set:  ask for help. 
Think about it: no successful leader ever has done it all themselves.  Not Martin Luther King.  Not Steve Jobs.  Not Mother Teresa. 
Successful leaders don't and can't do it all alone.  Asking for help as a leader is actually a sign of maturity and confidence, not a measure of weakness.
One specific and practical way to ask and receive help as a leader is to build your own personal board of directors. 
Successful nonprofits fill their boards with experienced people for specific niche roles such as financial or business acumen, legal knowledge, or deep community or topical expertise.
You can import that concept over to your leadership development: imagine yourself as the worthy recipient of such wisdom.
To try this out, follow these steps:
1)  Who's on your "A" Team?  Who would you most like to advise you?   What skills, resources, attitudes or perspectives would be useful to adopt or learn from?
Consider both real and virtual s/heroes, mentors and cheerleaders from:
– your own life (friends, family, colleagues)
– history or public life (Harriet Tubman, Nelson Mandela, Ghandi)
– fiction or film (Wonder Woman, Mae West, King Kong)
2)  What do you need?  Whether these people are in your real life, or exist just in your imagination, think about the role(s) you'd like to ask these people to play in your own development: 
Who would encourage you when you are in the dumps? 
Who could challenge you, hold your feet to the fire? 
Who would hold you accountable to your dreams and vision? 
3)  Ask for what you need.  Specifically design your relationship with your board members individually or collectively:  ask for the help you need.
Your board may or may not be able to actually meet, but do set aside regular time to consult with your real and virtual advisors: you don't have to do it alone.
In the Comments section below, I'd love to hear from you:
1)  Have you ever created a personal board of directors?  How was it helpful for you?
2) How do you assure you don't have to lead alone?
If you enjoyed this article, get email updates…. it's free!