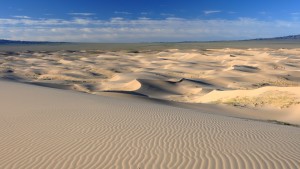 "I get by with a little help from my friends" – The Beatles
This won't come as any type of newsflash, but the doing the work of social change isn't the easy path.
You know in your heart why you do the work you do. You could have made other choices, but your work feels like a calling.
Some days you can feel like it's all making sense and you're seeing real change in what you do; other days, you wonder about your impact.
On those days, it can feel like you're stranded on a desert island, without a life boat, unable to see even a distant shore far on the horizon. You can start to feel disconnected from the work, the people around you, like you face the world alone. Isolated, you can start to feel unmotivated, and maybe on the worst days, a little hopeless.
When you're working hard to do the important work of social change and justice, it can feel this way sometimes. And the isolation, disconnection, and desolation can feel so real.
The mirage
While the real work of impacting change in the world is challenging — because if this work was easy, it would already be done – the reality is that none of us do much of anything alone.
Not because we're incompetent – hardly.
It's because, as social beings, we aren't really wired to be completely independent.
That's really OK… in fact, it's wonderful. Because in admitting our interdependence with others, we gain so much.
We don't actually have to do it all alone.
And paradoxically, in order to bring our best gifts, to keep doing the work that the world needs from us, and that we are called to do, we need support.
The reality
The most successful and impactful leaders have people around them.
People to hear them out, listen to their ideas.
People to challenge them, call them out, call them forth.
People to celebrate, shout, and cry with.
Who's surrounding you?
If you're feeling isolated, alone or frustrated in your work:
Find a friend, mentor or coach to act as a listening ear to hear you out. We need others to normalize our experience ("am I crazy?") and bounce our ideas off ("what do you think of this?"), so we can hear and direct our trains of thought outside of our own heads..
Connect with your values, and important mentors and colleagues from your past to remind you of who really are at your core. Sometimes, when our heads are down in the work we do, we can forget why we do what we do. Ask others to help you remember.
Create your own brain trust/board of directors. Rarely will one mentor have all the answers for you. Leverage the wisdom of your network to help you develop, grow and learn. Organizations create boards to guide them — why shouldn't you?
Read stories of other change makers. Memoirs, biographies, and autobiographies of people who have made meaningful change can help inspire and normalize your own journey.
Anchor yourself in a grounding practice of your choice, such as mindful breathing, walking, or yoga. Change can bring on a great deal of vulnerability and discomfort; connect to your own understanding of spirituality as another form of support.
Your Turn
In the Comments below, I'd love to hear from you.
What do you do when you feel isolated or alone in your work?
What helps break the spell of independence?
P.S.
I had such a good time connecting with so many amazing people on last week's webinar, Three Essentials Every Do-Gooder Needs to Stay Sane While Saving the World!  If you missed it, you can still get access to the recording here!  Learn essential skills and actionable practices to help you stay focused, inspired and sane while doing big important work.
Loved this post?
Then use the icons below to tweet it, share it on Facebook and send it to specific friends via email.
And leave your email at the top or bottom of this page to be first to hear about more articles like this.
Photo credit: Pixabay