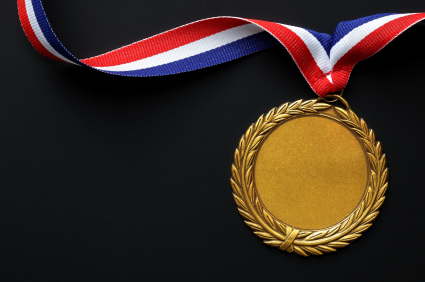 "Fear defeats more people than any other one thing in the world." — Ralph Waldo Emerson
Full-fledged Olympic fever has hit my home this past week: I don't know about yours, but everyone in my household is entraced by the spectacle and inspiration that is the 2012 London Olympic games. 
Watching these amazing feats of athleticism, here are some lessons us mere mortals can learn and apply in our own daily lives and work:
1) Olympic athletes play to their strengths.   You won't see Michael Phelps on the balance beam, and Gabby Douglas didn't enter the heavyweight boxing competition for a reason: those events don't play to their physical strengths. 
In the same way, effective leaders and teams know and work from their strengths.  It's a common misbelief that leaders need should be good at everything: recent research shows that effective leaders are at their best when they focus on improving upon their natural talents.
2) Olympic athletes are persistent and consistent.  Since the Olympics are only held every 4 years, and represent the gold standard for many sports, elite athletes train for years in advance, logging untold hours of practice, to prepare for the big event.
Effective leaders and teams also have to have dogged determination and persistence in achieving their goals.  They have to consistently practice the behaviors and attitudes that support their goals, so that they are ready to use them when they need them most.
3) Olympic athletes are willing to fail, and are able to recover.  The gold medal in many Olympic events is determined by the smallest of fractions of seconds or points.  Winning today doesn't guarantee the same tomorrow, and a loss only fuels determination to succeed the next time.
Leaders and teams need to be willing to go far enough to possibly fail, knowing that they can learn and recover from defeat. 
In the comments below, I want to hear from you:
1) What's a leadership lesson you're taking away from the Olympic games?
2) Which of these lessons above play to your strengths?