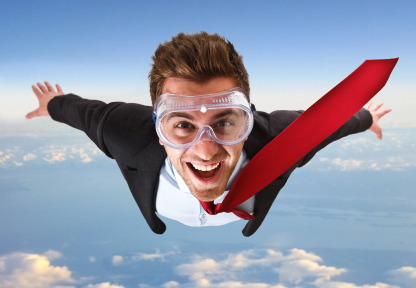 Don't let the fear of striking out hold you back.  – Babe Ruth
As we get farther along our journey as leaders, and really start to express ourselves, our vision and our purpose, it's not uncommon to start running some into some challenges.
Someone is threatened by what we say or do; our vision of the future runs contrary to the way it's been done in the past; or we become hampered by our own limiting beliefs about ourselves.
When we bump into these challenges, we have a choice: to take a chance to really trust and use our talents, gifts and voice, or to play it safe and shut up.
The dictionary defines risk as "expose to the chance of injury or loss; hazard; to take or run the chance of; to venture upon."
To be exposed to injury or loss or some other danger: that's typically how we think about risk, isn't it?
Instead, what if we considered risk as an adventure: to be bold enough, to dare to express ourselves especially when opposition or resistance seems like what will follow. 
That makes risk sound like courage to me. 
So in your daily life and work, what will you have courage enough to risk? 
Being wrong?
Having people not like you?
Being rejected or judged?
The world needs your voice and your ideas out in it – so be bold enough, courageous enough, to dare, to venture forth.
In the Comments below, take a risk!  Tell me:
– What are you willing to risk, in service of your leadership?
– As Brene Brown says, what's worth doing, even if you fail?
If you enjoyed this post, sign up for updates…. it's free!