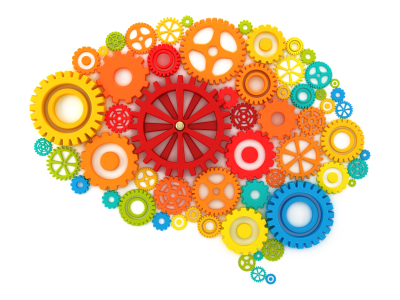 "The intellect has little to do on the road to discovery.  There comes a leap in consciousness, call it intuition or what you will, and the solution comes to you and you don't know how or why."  — Albert Einstein
The people I work with are smart.  Super-smart.  Book-smart and street-smart.  Some of them are even smarty-pants. 
And sometimes it gets in their way. 
What I mean by that is that their smarts, their book-knowledge, the super-excellent brain that has served them well in so many situations, are actually holding them back.
Their amazing brains will try to puzzle their issues out.  Their brilliant brains yell at them when they are stuck.  Their detailed brains interrogate them when they make a mistake.
Generally, these approaches aren't working too well.  I often will tell clients in these situations: "If you could figure this out with your smarts alone, you would have already done so."
For many of the people I work with, the answers they are looking for aren't found solely in the head or the intellect.  Instead, true change and transformation comes from also gathering and using information from their heart, soul and/or intuition. 
What I tell my clients is that it's not that we want to get rid of their brains (as if we could):  brains are really useful! 
Instead, I invite my clients (and you, dear reader) to be aware that these other ways of knowing (found in our emotions, body sensations, and intuition) are cues to our deeper desires.  They can be known as legitimate sources of information and can be cultivated and harnessed as allies and resources to complement our intellectual and rational side.
Try this:
Pick an issue you're currently feeling stuck or stymied on.

What does your brain, your intellect, have to say about this issue?  Write this down.

What feelings, emotions, are present about this issue?  Write them down.

When you think about this issue, what do you notice in your body?  Again, write it down.

Think of a time in your life when you just "knew" what to do.  How did you "know"?  Where did that knowing come from?  Write this down.

From your notes, harvest the wisdom from each of these dimensions.  What's becoming clearer to you?
In the comments below, I want to hear from you.  Let me know about your experience with the exercise above, as well as:
1) When has your intellect or smarts served you?  When has it gotten in your way?
2) What's a time when you followed cues from your intuition, your gut or your heart?  What happened?