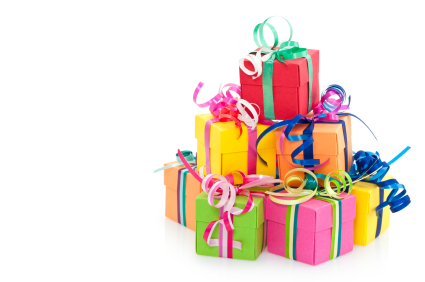 "A wonderful gift may not be wrapped as you expect."
― Jonathan Lockwood Huie 
Three weeks ago, I had a job interview. 
I didn't get the job.
It doesn't actually wreck the story to tell you this upfront, because not getting the job isn't actually the end of the story: it's really just the beginning.
The job interview – or audition as it's called – was with the organization I did my individual coach training with – Coaches Training Institute (CTI) – to be one of their in-person trainers for their courses. 
This opportunity to audition was the culmination of a long-term dream of mine.  Since my very first weekend in one of their courses nine years ago, I wanted to be one of their course leaders up there in the front of the room.  I'd never seen more powerful learning happen with just two people and a flip chart. 
I've been inspired and intrigued by their work, and have held the quality and integrity of CTI's training as the "gold standard" I've aspired to in workshops I've created and delivered myself.  I also hoped that being a trainer for CTI would not only give me a consistent opportunity to work at that level of quality but also help me have even greater impact both with groups and individuals in my own work.
So, when I got the invitation to audition, I got ready.  I upped my game in all sorts of ways: focus, vision, self-care, carefully choosing my outfit.  I prepared myself inside and out to be at my courageous and authentic best. 
And on the day of the audition, I showed up, powerfully: I swung out, I took risks, I was brilliant.  I also failed regularly, recovered, and kept going.
And even though I wasn't the right fit for this job, this time, there's a lot to learn and celebrate about my experience – as well as how it applies to you in your leadership quests as well:
1) The opportunity to show up and be brilliant is now, everyday, not just on any one specific day. 
I realized early on in my preparation that what I was doing to get ready wasn't actually for the audition – it was what I need to do for the rest of my life. 
People in my "regular" life told me in the weeks up to the audition that I was on fire – and I was!  And so why not live life like that?  Why shouldn't everyone, in fact? 
While my audition for this job was September 24th, the opportunity to show up prepared, focused, awake and excellent exists on September 3rd, November 13th, January 4th – today, everyday, forever!
2)  Go to the edge of what you think you can do and then keep going. 
Last week I got my feedback from the audition: "incredibly powerful" and "clearly a leader" were some of what was offered.   Their advice was to "claim the star that I am".  
But what kept me from being hired was that I didn't actually go far enough.  That I'd do something "brilliant" and then step back when co-leading an exercise.  That I could have gone further. 
Basically the message was "We love you AND we want more from you.  Take more risks."  
In the team coaching I do, we talk about the "edge" we all face in change, when we go from what we know and are comfortable with, to the unknown. 
The job of leaders is to constantly go into the unknown, and we can get a little funky as we approach the edge. 
We can go over that edge into the unknown in many ways; but we must eventually go over it if we are to create something new.  And as we go over each of our edges, we find that there is a new horizon. 
Which leads me to….
3)  Our learning never ends. 
While I am 100% proud of how I showed up the day of the audition, of the courage, heart and vulnerability I displayed, knowing I definitely stretched myself into new areas,  I know there is more for me to learn.  Of course.  And hurray!
It's as if the preparation, the audition day, and since have all been a mini-laboratory for me to wake up, notice, pay attention, choose, and act at a new level.
So, watch this space, people: note that I'll be shining more brightly, taking more risks, and keeping on learning.
Now it's your turn!  In the Comments below, tell me:
– Which one of my lessons resonates most with you and your leadership path?
– How can you embrace today's opportunities, take more risks, and learn from them in your life right now?
If you enjoyed this post, sign up to receive more right in your in-box…. it's free!