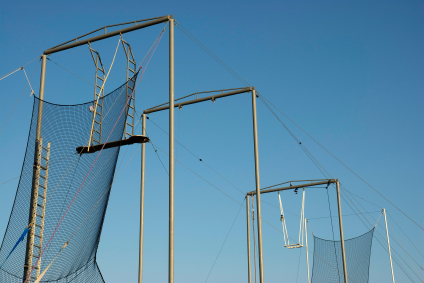 Leap, and the net will appear. – John Burroughs
So, how's 2013 going for you so far? 
Are you stepping or jumping into this new year?
Are you zigging and zagging into it?
Or perhaps looking backwards, wishing for a re-do of 2012?

For me, I've claimed 2013 as my year of authority, clarity and creation:  to be a powerful force for good, by doing what I am uniquely able and called to do. 
And then (gulp), I can find myself thinking, Really?  Am I just kidding myself?

For most of us, the biggest barrier to our growth and opportunity is ourselves. 
We can cut ourselves off at the knees via doubt, worry and comparison to others. 
We can keep our visions small and only aim for what is just slightly out of our grasp.
But that doesn't really serve the larger purpose that we are each up to as change makers. 
The work of leaders is to constantly go into the unknown.  Planning is great and there is a time to let go of our plans and leap.   A time to edge out farther on the limb and just jump into the unknown.
If you find yourself longing for a bigger leap this year too, try asking yourself these questions:
1)  What would you do this year if you knew you could not fail?
2)  What is the really significant meaning you are attaching to failure?
And in the Comments section below, let me know where you're longing to leap in 2013!

If you enjoyed this article, get email updates…. it's free!