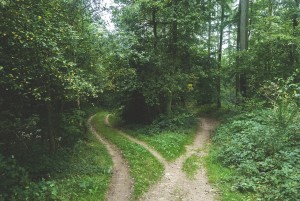 "A 'No' uttered from the deepest conviction is better than a 'Yes' merely uttered to please, or worse, to avoid trouble."  – Mahatma Ghandi
You've been offered your dream: the position you've been longing for.
It's like the hiring manager was reading your mind, it's that spot-on – like the job description was written just for you.
But if you're truly honest with yourself, something's a bit off.  You can't exactly put your finger on it, but something's not quite right.
That little voice in the back of your head is whispering and keeping you up at night.
You wonder:  "How can I know what's right?"
You think: "I must be crazy!  Others would kill for this opportunity.  What's wrong with me?"
How can you know the best path to take?
Here's the truth
Nothing's wrong with you.  Doubts and fears are normal – and expected – when we get close to what we want.
It's important to distinguish between when our doubts are related to an instinct that something is out of alignment, and when our worries are actually coming from our inner critic.
The critic will sound more like "could", "should" or "would".
But when you have that persistent gnawing sense that something's off, and you can't shake it, it's your values that are speaking to you.
Your values are there to anchor you, guide you, bring you closer to what you want.
And when you really know something is "off", it's because your values are not in alignment with the situation.
How to say no
Once you're clear something's not a fit for you, no matter how good it looks on the surface, how do you say no, and live to breathe another day?
Be clear, brief and concise.  Most of us tend to over explain our "no" when a short reason will do.  Some rationale will be useful, but do remember that "no" is a complete sentence.
Focus on observable facts and data, using "I" statements.  Blame or criticism definitely doesn't belong here.
Don't sacrifice the relationship.   Sometimes our "no" is actually a "not right now".  Leave the door open.  You never know what will come down the pike, so don't burn bridges with your "no".
Learning how to say "no" to what's not right for you can open up new avenues that you never knew existed.
Your turn
In the Comments below, I'd love to hear your take on saying "no".
What helps you when you have to say "no" to something?
When has saying "no" opened up new opportunities to say "yes" to?
P.S.  Pass it on
Loved this post? Then use the icons below to tweet it, share it on Facebook and send it to specific friends via email.
And leave your email at the top or bottom of this page to be first to hear about more articles like this.