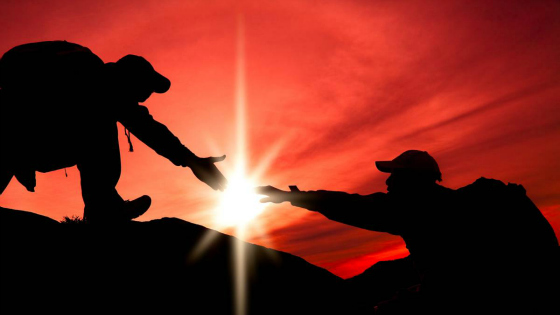 "When we give cheerfully and accept gratefully, everyone is blessed."

― Maya Angelou
You're a helper.  
While that word might not part of your job description or your official role, for sure it's how others see you, how you fulfill the mission of your organization, and how you function everyday: you chip in, you facilitate, you serve others.
Every day, you are using your talents and skills to help other people.
But what happens when you, the helper, need help?
A recent story
As a coach, I spend most of my time listening to other people: championing their internal abilities to overcome obstacles, find their own answers, and make the world a better place.   
I love the work I do – it's a huge part of who I am. Every time I get to work with clients, I feel very honored to help facilitate growth and new possibilities with amazing leaders and teams.
And, like my clients, and you, I'm also human.  
A few weeks ago, my daughter was hit by a car while she was walking home from school. And while she miraculously sustained no permanent or serious injuries, I was sent emotionally reeling for a few days afterwards.  
During work hours, I met with my clients, but in between sessions, I wasn't really able to do much beyond simple administrative tasks.
In my personal life, I felt barely able to sustain a real conversation with anyone without breaking into tears.
I wondered if I was doing anything useful at all in my incapacitated state.
When we need help
It can be hard for us helpers when we need help. We're used to being the ones who help others, not the other way around.
It can be a humbling reminder of the vulnerability that our clients, patients, or colleagues can experience when they get help from us.
Needing to ask for help when we're used to being the one in that role can feel like we've lost a part of ourselves. We can judge ourselves for not using our own professional skills to help ourselves.
I was feeling that way, for sure: why couldn't I snap out of it, or at least use my well-honed coaching skills on myself?
How to help yourself
Remember that you're human. I hate to break it to you, but it's true. Despite your amazing superhero talents, you are fundamentally human –  like all of us. 

And while you are special and remarkable in many ways, you aren't unique in sometimes needing to step away from the important work you are doing and take a break.

Be sure that your basic physical needs are met: sleep, nutrition, exercise, meditation/prayer/contemplation, hydration. In my experience, water – crying, drinking some, or sweating some out – can help get many problems heading in the right direction.

Ask for help. Helpers aren't always very practiced in asking for help, so it can feel awkward to ask and receive it. If you struggle with accepting help and kindness from others, think about how good you feel when you help someone else; that same feeling you've experienced is how others will feel when they help you.

Take your own advice. Think about what you'd advise your most cherished friend who was in a similar situation as you. Then, follow your own advice. You are your own best advisor: learn to hear and trust your own wisdom.
As for me, after finally letting some tears come, receiving some caring listening from friends, and getting some rest, I was better able to reboot and get back to doing what I do best.
(And if you're craving some R & R for yourself at this busy time of the year, be sure to sign up here for my virtual retreat: December 14-16, 12-12:30 CT.  Get some perspective on your accomplishments from this year, and plan an amazing next year!)
Your Turn
In the Comments below, tell me: how do you take care of yourself as a helper?
P.S.  Loved this post? Pass it on. 
Use the icons below to tweet it, share it on Facebook and send it to specific friends via email.

Photo credit: DepositPhotos